Luminescence occurs if a material exposed to a source of excitation absorbs energy, and them emits that energy as a visible light. The energy can be derived from a number of sources including a light bulb, headlight, fluorescent light (any artificial light) and under sunlight. The stronger the light source, the quicker the charging process.
Photoluminescence also occurs by electromagnetic excitation and the material also emits while the energy source is present. But with photoluminescence the relaxation of the electgron back to the ground state and subsequent emission of photons of light continues long after the excitation source is removed. This is termed the "afterglow".
These rare earth-activated alkali earth aluminate-silicate photoluminescent pigments are not like glow sticks that only last for one time. This occurs because it is not a chemical process but a modification of a crystal. Photoluminescent pigment does not lose its effectiveness over time. This new age pigment will charge under light, then discharge in darkness 365 days of the year, for upto 10 years.

Photoluminescent pigment is a rare-earth activated alkali earth aluminate-silicate. The main characteristic of this material is the particular structure of its crystal with the strong capacity of absorbing storing emitting light.

The photoluminescent pigment is made of alkaline earth aluminate. The pigments appearance colour is light yellow-green and its glowing colours are yellow and green. These give the strongest glow as seen from the chromacity Diagram below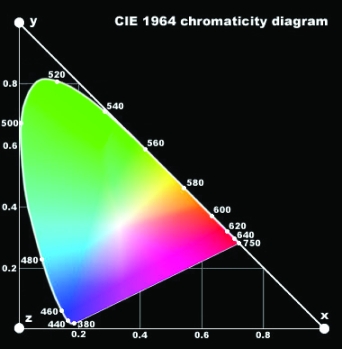 Enviromentally Friendly
The wavelength range of excited lights is broad and the light sources are easily and conveniently obtained
After absorbing various visible lights, it can glow for more than twelve hours in the dark
Excellent physical and chemical properties. The product can be utilized in the outdoors and bad conditions, which have outstanding anti-ultraviolet properties
Extremely long lifetime. More than ten years.
It can absorb, Store and emit visible light repeatedly.